Baci
Baci (formerly known as Shadow)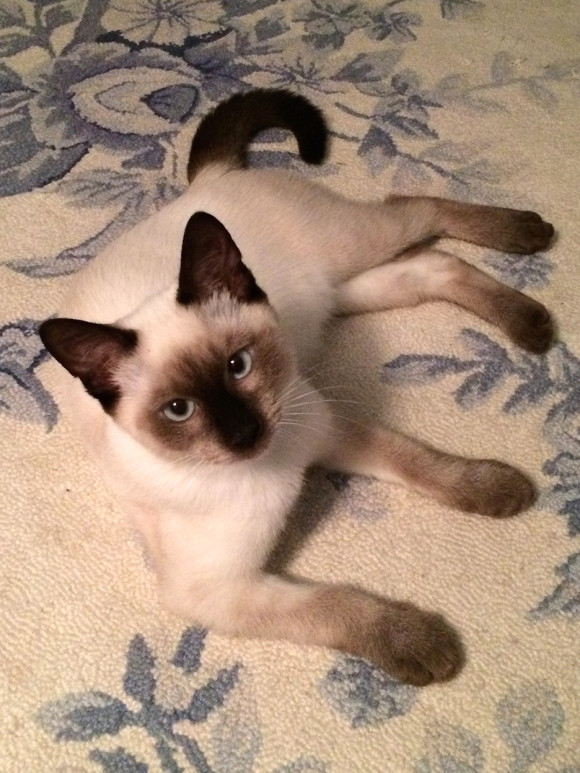 Below is Ting, a 14 year old Chocolate Point Siamese who lost her best bud Henry (a 17 year old brown tabby cat) a bit over a year ago; she has been sad and unwell ever since.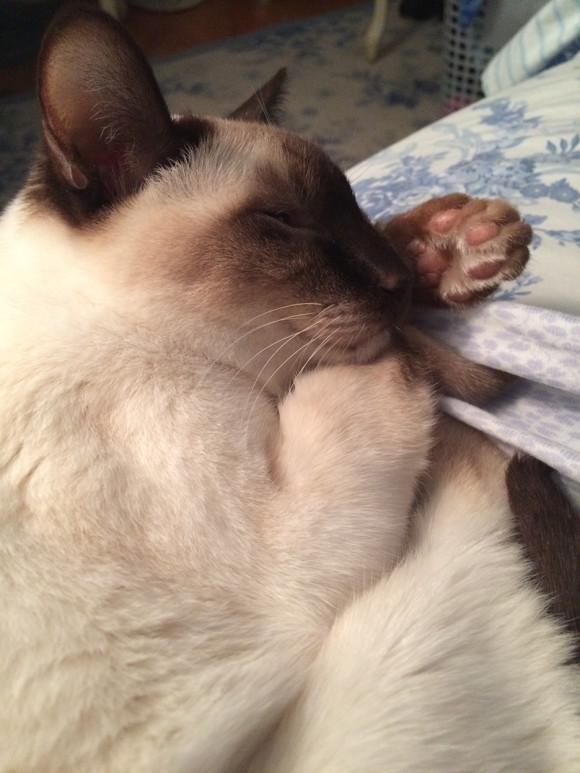 She lives with Pearl, a 5 year old flame point rescue cat from Siamese Cat Rescue in Virginia, who picks on Ting. Ting weighs 6 pounds, Pearl 13 pounds… not a fair fight! Below is Pearl, pondering her future with a kitten living in her house….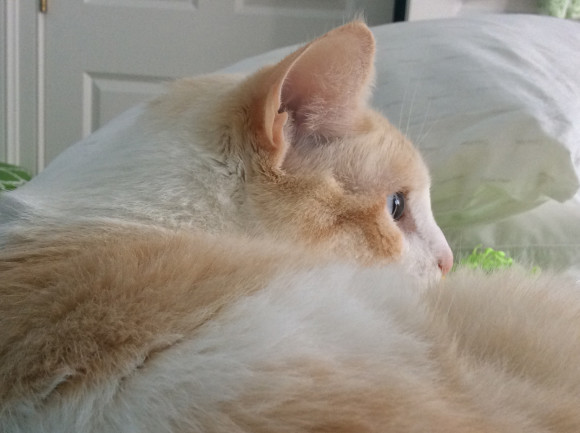 I decided that Pearl would do better and Ting would be relieved (eventually) if there was a new, younger playmate…. A friend who is the webmaster for Northwind told me about a lynx point mix Siamese available for adoption there. The timing was a little off and he found another home, but his brother was available.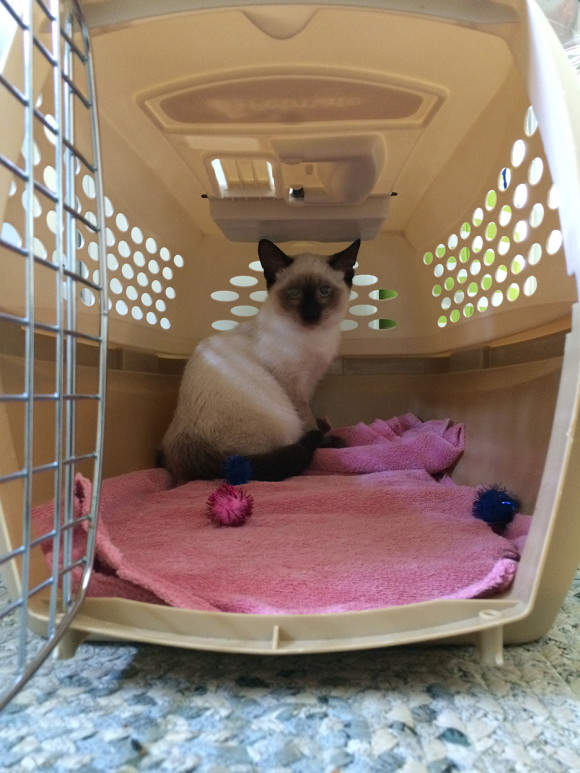 This is Baci when we got home. He is so cute that he had to move to Connecticut with me, Ting and Pearl. Hmmm… Ting and Pearl were not sure at all that this was a good idea….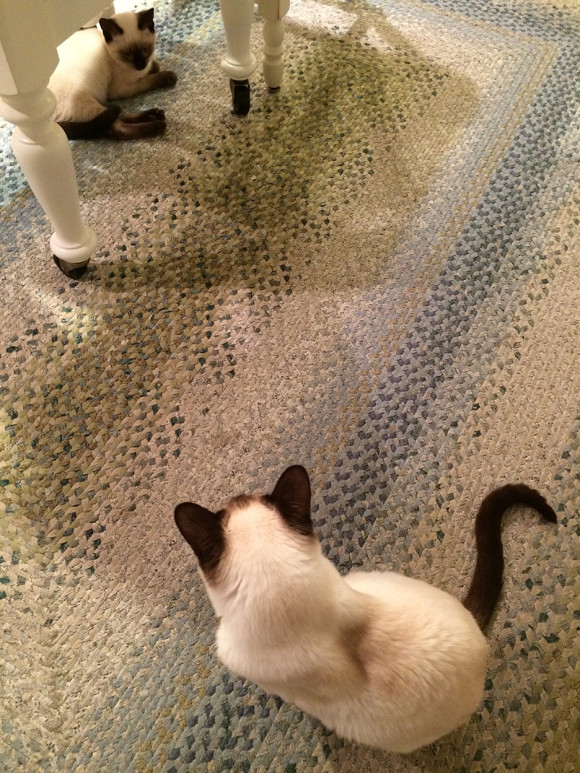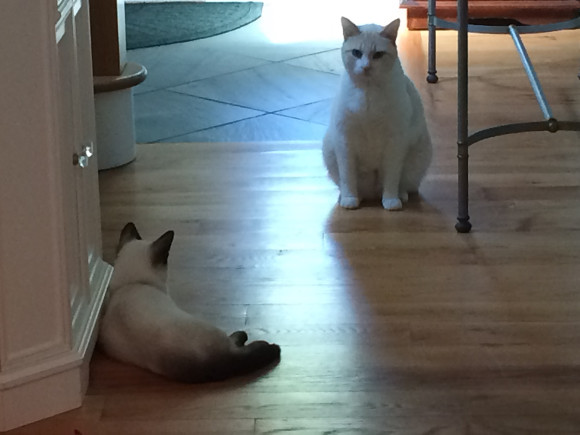 Baci liked the idea fairly quickly (mostly because this is a household of 3 cats and 436 cat toys I think). He was very hand-shy, so I let him get used to his new home and "friends" and then started to pick him up every day. He now comes and asks to be picked up and/or patted (though those sessions do not last for long… everything is a distraction when you are a kitten!).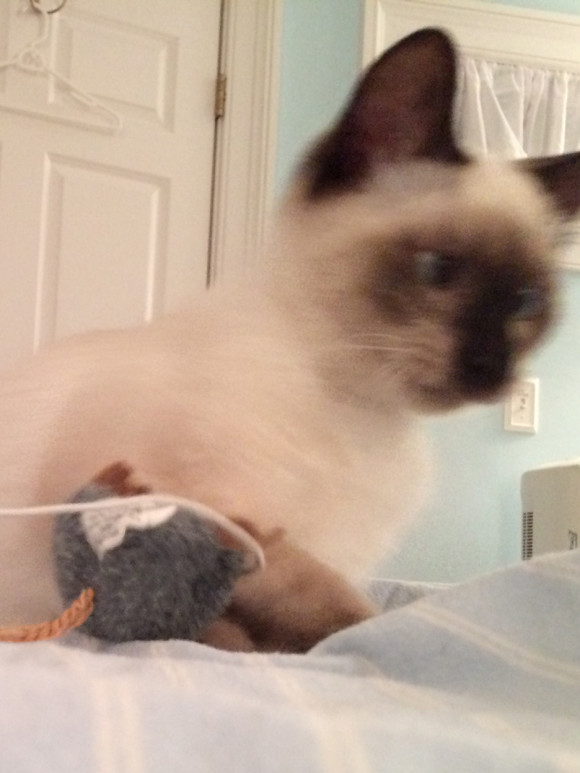 He was a bit confused because I think he thought Ting was his mother. Ting has a very typical Siamese voice and every time she meowed, he would cry and look for her and try to get her to pay attention to him… she was having none of it and bopped him on the head. It was very sad to watch. This scratcher thing is his safety zone (not safe from iPhone which he does not really trust as you can see…)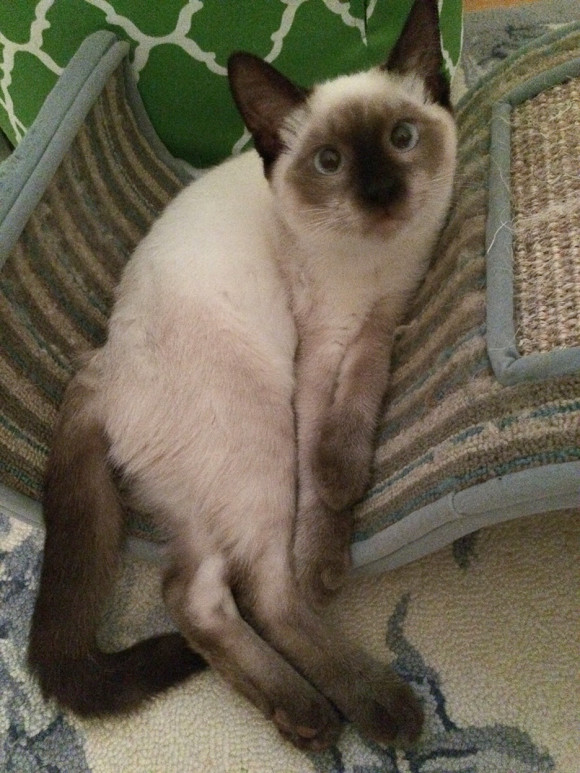 Baci has now been here for about 3 weeks and there is great progress. Pearl watches him a lot and sometimes even plays with him. She is tentative, but it gets better day by day.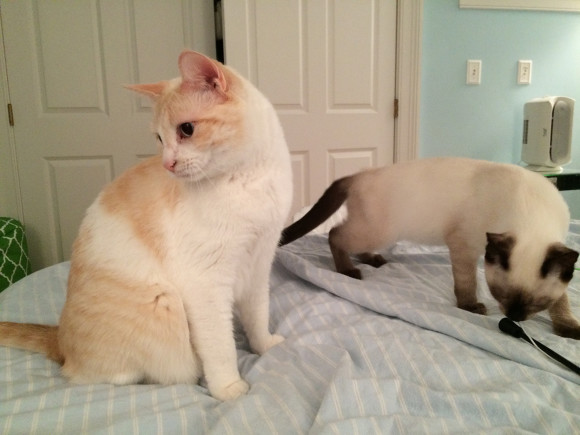 Today I sat down to do something. Ting has finely-tuned lap radar… as soon as I sit to do anything she is there. Then came Baci. They both sat next to me while I scratched their ears…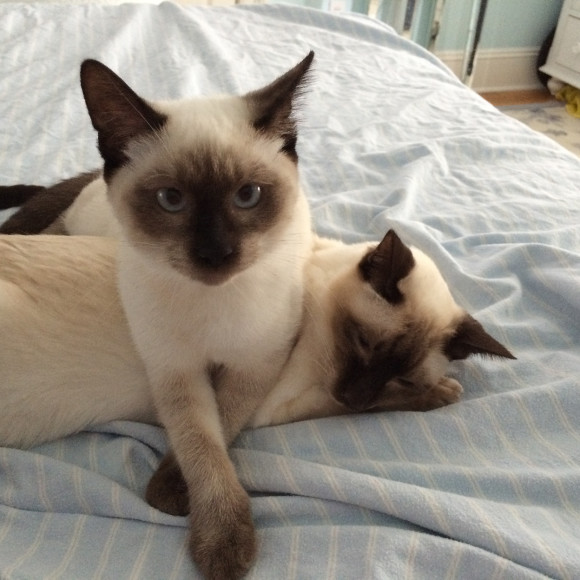 Then this happened: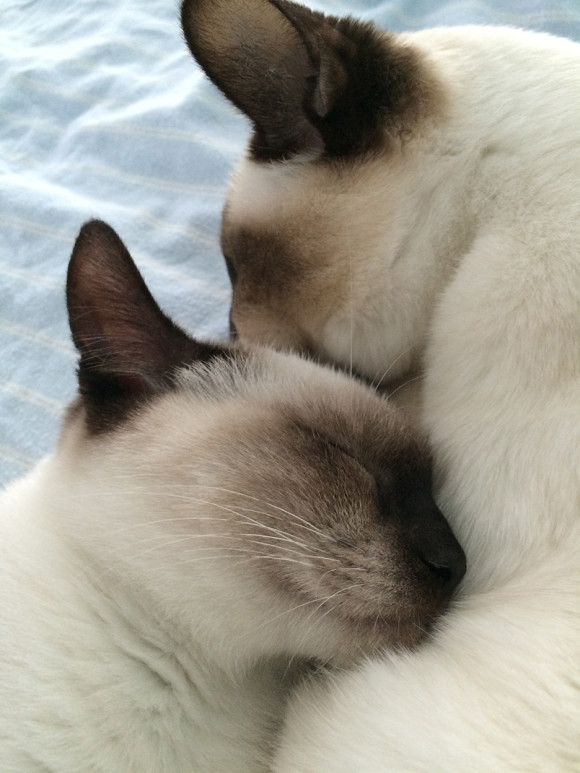 Ah! I think everything is working out…. Happiness! We have been trying various names, but decided Baci is appropriate because he is a chocolate point mix and there are yummy chocolates called Baci (which means kiss in Italian).
So thankful to Marc for his mention of all the wonderful animals at Northwind and for the great work they are doing to find homes to these animals. Thanks everybody!! Suki